reviews

One For The Road, Mill At Sonning, September/October 2007
There are two vital ingredients for good comedy. One is a sharp, funny script, and the other is performers with great comic ability. One For The Road at The Mill at Sonning has both in spades...
Pauline and Dennis are played by real-life husband and wife Lynette McMorrough and Nick Wilton and they give the show everything they have got.
As the play reaches the heights of farce and manic energy, this pair of very experienced and talented comics show an equisite sense of timing and control...
This is one of the best productions I have ever seen at The Mill, which is renowned for its comedy shows.
Angie Johnson, Oxford Times, September 21,2007
Nick Wilton is splendid as the man of the house, a Joni Mitchell fan approaching his 40th birthday and being given records by John Denver, his pet hate. Like an overgrown schoolboy he has a yen to take to the open road, leaving everything behind, especially the garden gnomes, which he has secretly been vandalising as an outlet for his frustration with life and its unfulfilled promise...
Well directed by Ron Aldridge, all the cast give excellent performances.
Sheila Tracy, The Stage, September 17, 2007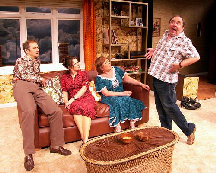 Nick Wilton

Nick Wilton is wonderful as Dennis, on the surface a "naughty schoolboy" who will not toe the line to help his wife's desperate bid to be up wih the Joneses.
He also does a superb "Parkinson", which more than deserved the tumultuous applause.
This is a great evening's entertainment, with plenty of laughs as the cast don't waste a line in the delicious script.
Sally Bryant, Wokingham Times
October 3, 2007
We knew we were in for a great evening when Damian Williams had us laughing from curtain up. add Andrew Lynford and Nick Wilton to the mix and this fast-paced farce, written by Ray and Michael Cooney, quickly became hysterical mayhem. At times it was hard to keep up with the constant twists and turns of the plot as one hysterical situation rolled into another.
Nick Wilton's attempts as interpreter for Katerina and Andreas were a masterpiece of comedy and closely observed behaviour of the Brit abroad.
RD, Lowestoft Journal, February 2008
Tom, Dick & Harry, Tour, February/March 2008
Tom, Dick and Harry ticks all the boxes for great farce: running joke, mistaken identity, doors opening and closing with precision timing; and a few touches all its own: a neat trick with a lemon, and a frantic sign language sequence that earned Nick Wilton a round of applause.
Derbyshire Times, February 2008