biography
Nick Wilton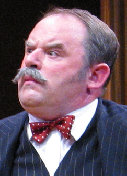 Nick read Drama & English at Kent University.

He made his professional acting debut in the 1980 revival of the Whitehall farce SIMPLE SPYMEN, directed by Brian Rix and later went on to play opposite Brian in the West End revival of DRY ROT.
In 1982 he won the Perrier award at Edinburgh with the revue group,
WRITERS INC.

Other stage appearances include: CASH ON DELIVERY, THE SLOANE RANGER REVUE and NEWSREVUE in the West End;
HA BLOODY HA (with Jan Ravens and Steve Brown) Edinburgh 1983;
national tours of OKLAHOMA!, OUTSIDE EDGE, RUN FOR YOUR WIFE, BRIEF ENCOUNTER, TOM, DICK & HARRY, THE RAILWAY CHILDREN, 'ALLO,'ALLO, and as Samuel Pepys in THE SECRET DIARIES;
HABEAS CORPUS (Exeter), THE WOMAN WHO COOKED HER HUSBAND (Hornchurch), NEVILLE'S ISLAND (Watford), Rosencrantz in ROSENCRANTZ & GUILDENSTERN ARE DEAD (Salibury), Maniac in ACCIDENTAL DEATH OF AN ANARCHIST (Southampton), CALCULUS (New End, Hampstead); CAUGHT IN THE NET (directed by Ray Cooney) at The Mill at Sonning;
a Middle & Far East tour of BEDROOM FARCE;
FUNNY MONEY and A BEDFULL OF FOREIGNERS in Singapore
and Kuala Lumpur; IT RUNS IN THE FAMILY and OUT OF ORDER on P&O's Aurora and Oriana; pantomimes at Plymouth, Hull, Rhyl, Edmonton, Salisbury, Hornchurch, Ilford, the Shaw Theatre, on BBC Radio 4, and at the Connaught Theatre, Worthing where he was resident Dame for three years -
Nick spent Christmas 2008 playing Widow Twankey in ALADDIN
with Clive Mantle, Hannah Waterman & Michael Absalom
at The Festival Theatre, Malvern for UK Productions.